Feedjit is a widget to track your blog visitors and to know what or how did they come to visit your blog. It`s also a tool which evaluates the progress of your blog because the more visitors you make on your blog, the more progressive it seems.
But there`s one thing which annoys me in this tool. My own visits to my blog keeps on posting in this widget. That is really a turn off because whenever I edit my post I keep viewing my blog as well and my visits to my blog keeps on appending on the widget. So how did I make it stop.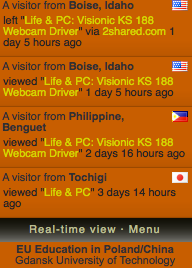 At the bottom of the widget, there are two options. One for Realtime View and the other one for Menu. Click on Menu and click Ignore Me on This Site. Done. Now, you can view your blog with no limits without ruining the line ups of original visits in your widget.